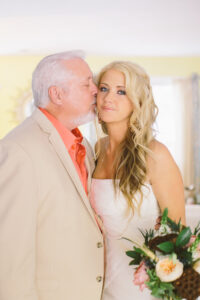 Thank you for your support, enthusiasm, constant availability and encouragement over the nine months of planning. We were able to create lifelong memories for our kids, our family and our friends. There is nothing more important than sharing a life event with the people you love most and knowing that everyone in attendance will walk away with something very special to remember. The response from all who were there has been overwhelming!

We will miss the beautiful views from the water, the Palm courtyard, the special lighting and all the conveniences that make creating events possible. Most of all, we will miss the wonderful people from Key Largo who joined us on our journey and poured their hearts and hard work into helping us create a beautiful series of events. The Key Largo Conch House (Laura and her talented team), Sabrina and her amazing Wishes to Weddings team, Dee from Petals with Pizzazz, Gina (our "Naked Cake" creator), Paul Caceras (our "go to guy" for lighting, audio and restrooms), Russ Ginsberg (our amazing DJ and Master of Ceremonies), Chris Glenn (our endlessly hard working photographer), Lisa from Alluring Faces (who made us beautiful), and also your behind the scenes team – all played critical roles in creating a first class, highly creative weekend of events. We loved it and will be forever indebted to you all!

We wish we could bottle the energy, the commitment, and the professionalism of this group of wonderful people and take it home with us! Instead, we will leave it all behind (except for the memories!) knowing you will continue bringing joy and happiness to other lucky families. You should all be proud of your excellent work and for knowing that at the end of the day, you touched many lives in a beautiful way and created lifelong memories. What could be better?! Deepest thanks from all of us!

Carol and Steve Campbell – Brittany and Tim Diggs