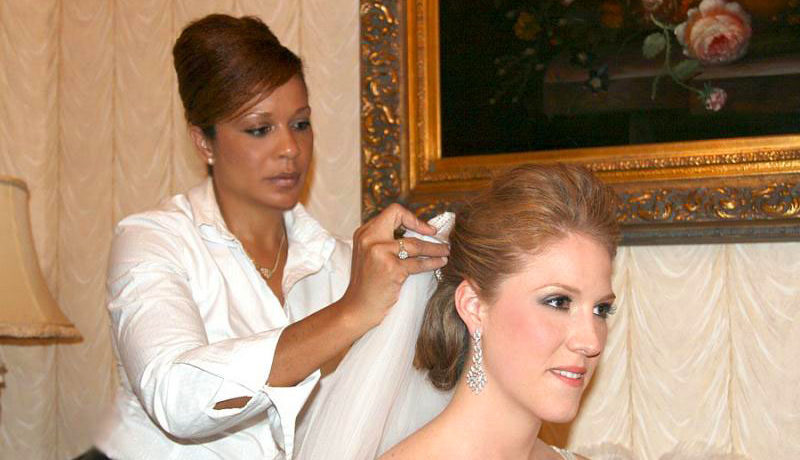 Lisa Merritt
Alluring Bridal Wedding Makeup and Hair Designer & Director
I believe that a confident Bride is a Beautiful Bride–my team and I will pamper and assist you and your bridal party with the best hair and makeup designs for your wedding. Although our goal is to meet the needs of all involved, we believed that thier is only one bride, and making her feel extra special for her day is most important. The Bride is the Leading Lady and her wishes are our command. As head designer, I will pay very close attention to your wants, and your needs. I will listen, brainstorm, and troubleshoot every detail when it comes to creating the makeup and hairstyle you have envisioned. As your artist on your wedding, I may be the voice of reason, a sounding board, a brain to pick, someone to vent to, what ever you may need I will assist. My goal is to make sure you love how you look when you walk down that aisle as a Beautiful Unforgettable Bride.
Lisa
Follow me
Alluring Bridal Makeup & Hair
by Lisa Lee
Lisa is a 20 year veteran Makeup Artist & Hair Stylist. Lisa has worked for many production company's, Celebrity's, Athletes & Miami's Affluent. Lisa's work has appeared in Grace Ormond Luxury Magazine, The Knot Bridal Magazine, The Miami Herald, Deco Drive, Celebrity Magazine, African Vibe Magazine, and People Magazine to name a few.Lisa is also creative director for Alluring Faces and has been called by some of the world's leading Cosmetic, Beauty and Entertainment Industry as: Revlon, BET, Ricki Lake Show, Harpo Productions, Travel Channel, Sony VMA's, Vh1, Channel 7, Loreal, Guess, Warner Brother Records, Milani Cosmetics, Temptu Cosmetics, Odyssey Media, Garnier Fructis, Maybelline and. Lisa has an extensive background in Runway and Fashion Show production.